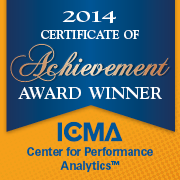 We are so excited to announce our customer, Park City, Utah, has been recognized with a Certificate of Achievement from the ICMA Center for Performance Analytics™ for their performance management efforts!
"The certificate program recognizes the principles of performance management," said Randall H. Reid, ICMA Director of Performance Initiatives. "Jurisdictions meeting the qualifications have demonstrated leadership in continuous improvement and community engagement, and they serve as examples for other governments to follow."
In order to apply for this award, Park City had to show superior performance in the following categories:
Reporting of performance data to the public through budgets, newsletters, and/or information provided to elected officials;
Data verification efforts to ensure reliability;
Staff training.

We could not be prouder of Park City's talented team and are thrilled they have received this much deserved accolade for their hard work in executing their performance management initiative!
To see how Park City achieved this sucess, check out their case study.
Or to see a performance management system in action, check out our NEW video demo!