Many government agencies and private corporations are nearing the end of the 7-10 year average lifespan of most budgeting and performance management software systems, causing more and more CFOs to explore new budgeting and performance management technologies. In fact, according to the "2013 Gartner Financial Executives International (FEI) CFO Technology Study," nearly 60% of CFOs indicated that investing in analytics and decision-making was their top priority, as it should be.
In the past decade, budgeting and financial planning technologies have transformed from error-prone manual data entry tools to an array of advanced analytical, integrated, and sophisticated real-time budget management software solutions, improvements that are only making the software selection even more difficult. Recent independent research revealed the top three software acquisition impairment factors:
Lack of user input
Incomplete requirements and specifications
Changing requirements and specifications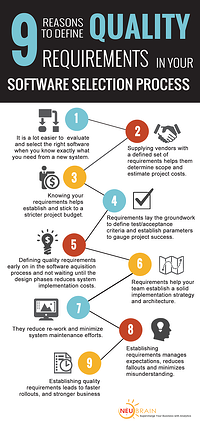 To overcome software acquisition impairment, it is imperative to put time, effort and thought into your software selection process and establish quality requirements.
Click on the infographic and discover just how important detailed, thought-through QUALITY requirements are to your budgeting software selection process or read the complete list here.
It is easier to evaluate and select the right software
Help vendors determine scope and provide costs estimates
Help to establish an accurate project budget and stay within it
Help establish test/acceptance criteria and measure project success
Reduce costs by condensing requirements gathering and design phases
Help establish a solid implementation strategy and architecture
Reduce re-work and minimize system maintenance efforts
Help manage expectations, minimize fallouts and misunderstanding
Lead to fast rollouts and strong business cases
Don't forget to join us on Feb. 20 for our free webinar, "How to Define Budgeting and Performance Management System Requirements, Part II – Performance Management" during which Neubrain experts will walk you through the requirements process, provide exclusive tips and tricks and answer any questions you may have about your next budgeting and performance management software project. Click here to register now!