During the course of working with various organizations that have deployed performance dashboards we have discovered 4 major success factors to implementing them successfully: (1) proper sponsorship and adequate resources for the project; (2) creating the right metrics and standardizing their meaning; (3)

designing a compelling user interface and the proper technical infrastructure to manage the metrics collection and analysis processes; and (4) planning ahead to ensure end-user adoption and managing organizational change.
In this blog we would like to briefly address the second factor: creating the right metrics and standardizing their meaning. Organizations should invest the time towards developing a well-rationalized, well-balanced set of leading indicators and operational metrics aligned with their strategic objectives and priorities. This step is crucial when implementing a sound performance management capability. Here are a few tips on how to start:
Where to start?

The process of defining metrics should always start with the analysis of your strategic plan, goals, priorities and outcomes. From there your need to conduct an analysis of your organizational structures and processes to determine the following types of metrics:

Outcome

metrics describe the benefit of the service to the customer and wha

t wa

s changed or accomplished as a result of the service.



Input

metrics are the resources used to produce an output.

Output

metrics address what was produced or provided.

Efficiency

metrics present inputs used per unit of output, such as the cost per unit where the input is in money/dollars or productivity where the input is staff hours per unit of output.

Service Quality

metrics measure customer satisfaction, timeliness, and/or accuracy of a service.
How to define them?
One of the hardest tasks in creating metrics is defining their meaning. Some of the most commonly defined terms with the organization are sometimes the hardest to refine. What is the definition of a customer, someone who purchased a product sometime in the past, or only within the last 12 months? What is cost to produce/serve XYZ? What components comprise those costs? We have developed a Business Performance Metric Collection Template (see below) that can assist you with this process. It provides performance managers with a consistent format and questions to gather a comprehensive set of information that can be easily analyzed.
How many metrics to define?
There is no hard and fast rule on how many metrics to define. The number of metrics depends on many factors: the complexity of the process being monitored, the nature of data and degree of automation, the type of users and their skills, and maturity of the process. Once the KPIs and metrics are defined you need to cull the number of performance metrics to a manageable number, because managing too many metrics dilutes focus and confuses efforts. People can become less efficient and effective.
There is a tendency for organizations to create metrics but not delete them. There should be a process by which the performance team periodically evaluates metrics against criteria specified below, and refines or retires those that no longer useful or relevant.
How to prioritize metrics?
In order to distill metrics, the performance management team might want to develop prioritization criteria (e.g. Linked to Strategy, Drives Behavior, Actionable, Easy to Understand, Data Quality, Standard Definition) along with the assigned weight (e.g. 1.0, 0.8) associated with each criterion and then rate the metrics (1 - does not meet requirement; 5 - meets requirement). This will allow you to evaluate proposed metrics, and then select and track only those metrics that will truly impact business outcomes.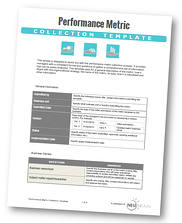 This template is designed to assist you with the performance metric collection process. It provides managers with a consistent format and questions to gather a comprehensive set of information that can be easily analyzed.