Budgeting, forecasting and performance management is a difficult process for organizations, not to mention reporting on results can be challenging, regardless of size or industry. Enterprise planning is critical for managers that contribute to the overall success or failure of a program, project or product, especially in good and bad economic times. Despite the importance of accurate forecasting, budgeting is often seen as a demanding and inefficient process. Yet forward-thinking organizations see integrated planning and performance management solutions necessary to compete.
Earlier this month, Aberdeen Research released the results of their 2014 Financial Planning, Budgeting, and Forecasting and Enterprise Performance Management Benchmark Survey. The survey sought to discover the best practices and technologies used by organizations that are successfully navigating the financial planning, budgeting and forecasting process. So, what did the survey reveal?
Leaders take advantage of new technologies and employ best practices to streamline their processes. These forward thinkers are rewarded with more accurate plans, more timely re-forecasts and more effective decision-making. Overall, technology solutions and best practices save time, reduce errors, promote organization-wide collaboration, tying strategic and operational plans and foster a disciplined management culture that delivers true competitive advantage when vying for market share budget dollars.
Key Capabilities
Today, leading organizations develop high-level requirements for evaluating and selecting world-class planning, budgeting and performance management software. Technology solutions should have the following capabilities:
Integrated Service Orientated Architecture

Strategic, operational and financial planning resides in one system. Managers do not need to maintain "shadow" planning systems

SURVEY SAYS: Best-in-class organizations are 86% more likely than all others to have integrated business systems that act as a complete and auditable system of record.
Collaborative

Web-based and distributed planning models enable participation anytime, anywhere. The ability to use a secure Web connection allows everyone to access plan information wherever there is Internet connectivity.

SURVEY SAYS: 62% of Best-in-class have established enterprise-wide collaboration from the top-down and bottom-up in comparison to 33% of all others.
Applicable

Customized views for managers increase adoption and ownership. Formula capabilities enable modeling of all relevant business drivers.

SURVEY SAYS: Best-in-class organizations are more than twice as likely to have the ability to incorporate their business drivers into the on-going forecasting process
Line of Business Model

Because each part of the organization is responsible for planning process development, deployment, reporting and analysis, your professionals have the best understanding of what is required in terms of software flexibility and ease-of-use, both in modeling and day-to-day activities.

SURVEY SAYS: 50% of Best-in-class organizations have the ability to assign resources and workflows for budgeting and forecasting activities, in comparison to 34% of all others; 65% of the Best-in-class have a corporate process for budget revisions, roll-ups and approvals.
Flexible

Simplified version control and the ability to frequently re-forecast give companies the ability to respond to business changes with "what if" scenarios as often as necessary.

SURVEY SAYS: Best-in-class organizations are more than twice as likely to have the ability to perform "what if scenarios" compared with all others (64% vs. 28%).
Timely

Information is always current because departmental users contribute directly to a central planning database. Consolidations and roll ups are done automatically, so deadlines are more easily met.

SURVEY SAYS: Best-in-class organizations are nearly three times as likely to have an automated reforecasting tools.
Efficient

Finance managers and department managers spend less time managing data and more time managing the business

SURVEY SAYS: 65% of the best-in-class have a planning, budgeting and forecasting application in comparison to 46% of all others.

Before implementing a software solution, it is important to understand that software cannot create a better budgeting and forecasting system; it can simply make a well-run process more efficient and operational. However, when software is used to supplement already established best practices, even the most complex budgeting, financial consolidation and reporting process can be transformed into a simple, easy-to-use framework.
---
ABOUT NEUBRAIN
Neubrain invests time identifying your specific budget process problems, configuring software features, so that not only they fit your needs, but they are fast to implement and ease to use, to help your organization achieve maximum business benefits of a new budgeting software.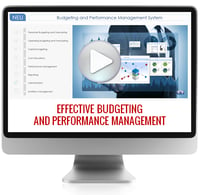 ---